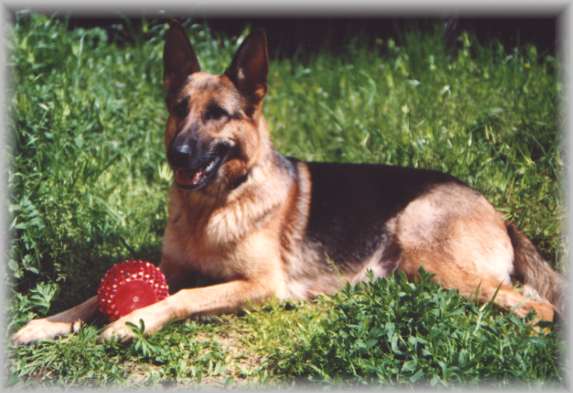 Halla vom Stiegerlerhof
AKC Registration
AKC, the American Kennel Club of America is the registry for dogs born in the US and for the dogs imported  into the US.  An AKC registered litter indicates that both of the parents are AKC registered or that the parents are approved by the AKC because their registry is from an FCI recognized registry.
DNA
As with humans, DNA can be done with dogs and it can be registered in both Germany with the SV and in the US with the AKC.   All dogs in Germany are required to have DNA. Also, all dogs imported to the US must have AKC DNA.
Hip and Elbow Certification (HD/ED)
The "a" stamp is an evaluation provide by the SV  (German shepherd club of Germany). There are three passing levels of certification: "a" normal, which is the best rating; then fast normal which is the next level and noch zugelassen, which is the lowest level of passing.  In the USA, the OFA evaluation of hips and elbows is used.  The certification levels are: Excellent; Good; and Fair.   Both Certifications are given after x-rays of the hips and elbows are submitted.
HD-Zuchtwerte – Breed Value  (ZW)
This is a breed value assessment number. This is calculated number assigned to a dog when the x-rays are sent to Germany for the "a" stamp program. This numbering system was created to determine the probability of hip rating of the progeny when two dogs are bred together.  When two dogs are bred, the ZW number is added together and then divided by two. The average can not be higher than 100.  The number is recalculated every 3months.  Numbers are used from all the dogs in an individual dog's pedigree to determine the individual dog's number.  The SV website shows the calculated number for each dog.
Degenerative Myelopathy (DM)
This is a progressive disease of the canine spinal cord where there is progressive weakness and incoordination of the rear limbs which leads to paralysis. Through supplements and correct exercise, the dog can live a good life.  There is a genetic test for dogs for DM.  However, it is not totally accurate.  Dogs at risk may never get DM and dogs that are clear have been actually gotten DM.  From the test, the ratings are as follows:Clear – N/N or normal/normal; Carrier – N/A and Affected/at Risk – A/A.