---
FYNN VOM HÜLSBACH
IPO 3, V1 in 2018 USCA National Show, CGC, CGCA, CGCU,  V, Kkl , HD/ED normal, ZW 75. DM, Thyroid, Cardiac, Patellar, CAER clear.
Fynn is a dog with a super sweet temperament. He earned his IPO 3 titled before the age of 2 years.  He is from the outstanding "F" litter from the Hülsbach kennel where several of his littermates have shown high in the German Sieger Show.  He is the son of VA Pacco vom Langenbungert. He is owned by Bobbi King.
Breed survey remarks:  Mittelgroß, gehaltvoll, kräftig, trocken und fest, gute Gebäudeverhältnisse, sehr guter Ausdruck, sehr gut pigmentiert, sehr gutes Gepräge. Hoher, langer Widerrist, gerader, fester Rücken, gute Länge und Lage der Kruppe. Vorne gut, hinten sehr gut gewinkelt, ausgeglichene Brustverhältnisse, gerade Front. Geradetretend, sehr kraftvolle, sehr raumgreifende Gänge bei guter Erhabenheit. Sicheres Wesen, TSB ausgeprägt.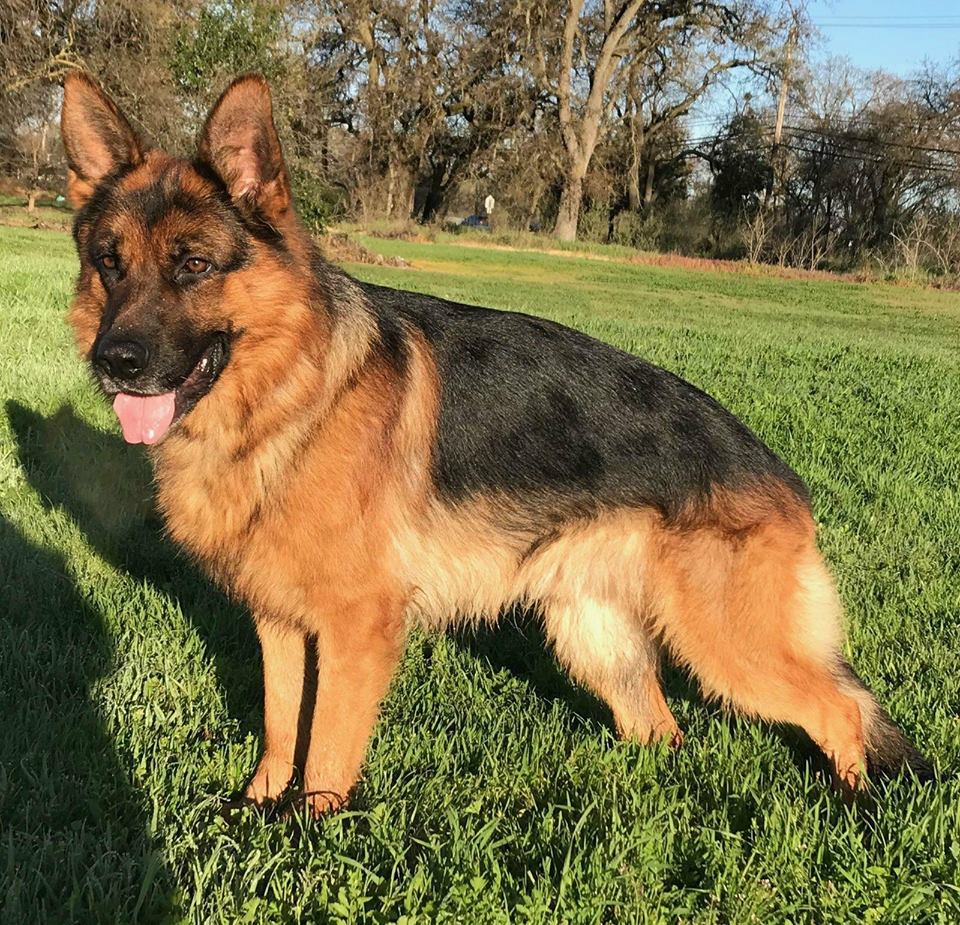 ---
ZABAX VON ST. MICHAELS-BERG
IPO 3, V, KKl, HD/ED normal, ZW 84, DM clear
Zabax was imported from Germany.  His pedigree is excellent with mostly top dogs in Germany.  He has deep black and red pigment with a correct conformation.

---
---
ALADIN VOM BERGMANNSLAND
IPO 3, Kkl 1,  HD/ED normal, ZW 76, CGC, CGCA, CGCU,  GSDCA TC, Cardiac, Patellar, DM, Thyroid, CAER clear. V 81 World Sieger Show in 2012 V-2 Northwestern Regional Show 2015  
Aladin is the son of V (BSZS) Tyson vom Kottersbusch. He is a large and powerful male. His black and red pigment is stunning. He is correct in conformation and has an extremely beautiful flowing gait. He is an impressive German Shepherd with all the qualities that are desired in the breed standard.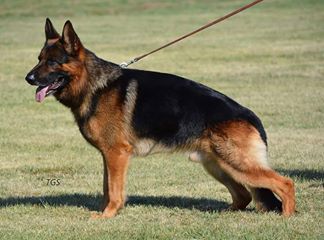 ---
Home              |                Litters               |               Our Dogs                |               Contact