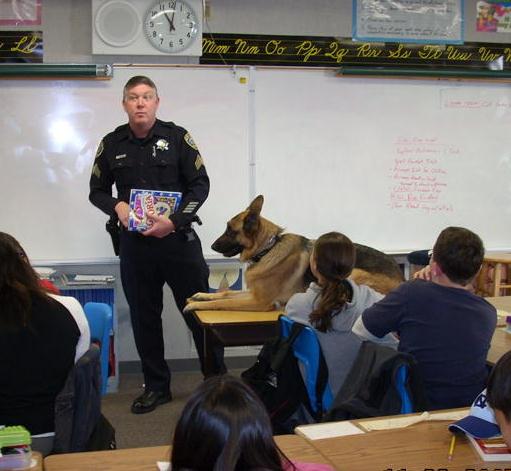 Officer John Korges  –  Owner of Karson vom Roten Wald
Karen, Karson just turned five and time to reflect on what a wonderful dog he is. I want to thank you for dedication to breeding great dogs. Karson not only works in human remains detection but is comfortable in the snow, the beach, ranch work and with the public too. He does so well with children and adults alike. I have attached some photos just to show you what he does. Most importantly he is a wonderful member of our family. As the famous quote says " Dogs are not our whole life, but they make our lives whole" Karen thank you again for all your work and efforts in breeding such great GSD's.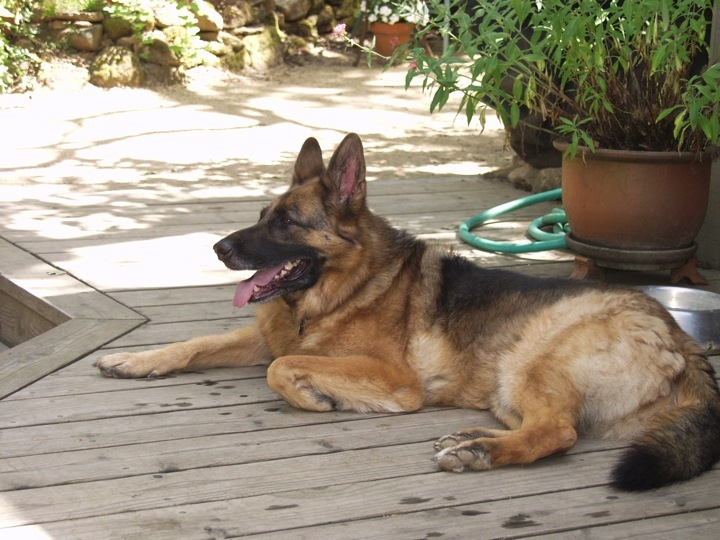 Karen Sommer  –  Owner of Lola vom Roten Wald
She is a wonderful family dog. We are so pleased with her disposition and personality. She is our fourth German Shepherd Dog over 40 years. Each dog we say is our favorite at the time, but Lola is the best. We did some research before we settle on Roten Wald, we wanted to meet the parents of our next dog. I was so taken with Sancho when we met him. His personality came through and he was such a delight. We are so pleased that Lola has that same personality. She loves people and gets along with everyone. We wanted a family dog and wanted a intelligent breed. The German Shepherd Dog brings the willingness to please along with the intelligence. Lola is a great example of the breed.  She is almost 8 years old and has had no injuries or illnesses. She exercises a lot, running with our neighbor dog which is a Corgi, they are best friends. She is a perfect 62 lbs. We like her size. She is spoiled because she is with us all of the time and gets a lot of attention. On many occasions we have a lot of people over. She settles down very well, usually in the middle of the group. Thank you for breeding such great dogs. I don't know if Sancho is still yout "main man", but he certainly did well for us in producing Lola.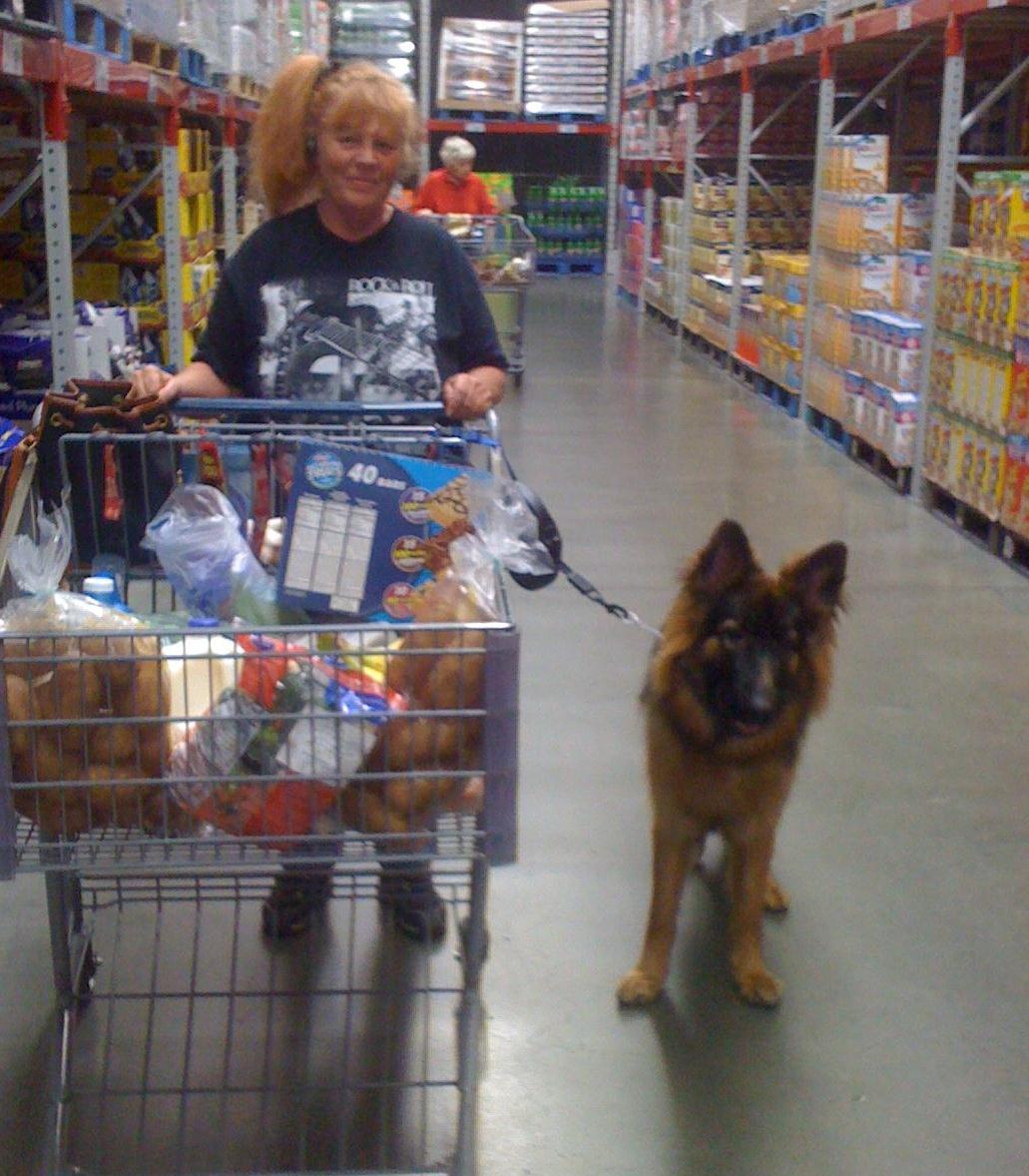 Carol Owen – Owner of D'Sancho vom Roten Wald (Smokey Bear)
I can't say enough about Karen as a breeder. I searched from east coast to up and down the west very heavy. I am absolutely so happy with my boy. My last GSD was my service dog. My Smokey Bear is already in training to fill some very big paws. Karen's dogs are from a good line of working dogs and show. Their health is fantastic, they are very smart and Karen starts training right off.  Of course I have to mention how beautiful my boy is. He is the hit of my veterinary hospital/clinic. He has stole all their hearts and I just love hearing professionals rave about his beauty, style and intelligence. It is the same reaction at "The Honest Dog" (my groomer who catters to Service Dogs and K-9 police dogs). Karen is the most dedicated breeder I have met in 50 years.
When Smokey Bear was about 7 months old I took him to a small neighborhood grocery store to train. This store gets a variety of people and I thought that would be good exposure. One of my health problems is, I loose my balance at unpredictable times so Smokey wears a working harness with a handle on it for me to use to gain balance. This gear is like that of what the police use. The only difference is, his is service dog not K9 Cop. As Smokey and I were about to enter the store one day, a man came running out the door towards us. Smokey immediately took an attack mode, put his hair up, showed his teeth, barked and looked like "The Dog From Hell". I had never seen him this way and I thank God that there was a strong handle on his gear for me to control him. This charging man just froze in his tracks for fear that Smokey would attack and take him down. (I kind of thought Smokey would if the man got my closer myself) Moments later a security guard from the store came running out and tackled the man taking him to the ground. The man was a shop lifter and had escaped security inside the store. The store owner was very grateful, as was security. Smokey is now almost two years old and is the most wonderful service dog for me. He just keeps learning and learning. However, he is now a self appointed Cop and gives shop lifters warnings in stores. My K9 cop friends say he is picking up a scent from them that is commonly produced when people are committing crimes.
Smokey would have been a very good Cop or Search and Rescue Dog. However, he is very happy taking care of mom. Smokey also picks up on friends and family's health problems. He alerts us to my daughter's high or low sugar levels saving her from seizures. He picked up on a friend who has cancer. He is so amazing how he reads people and their needs. Hats off to you Karen!! You and your dogs are the best!!!
There are so many wonderful stories from those that own our puppies, we wish we could list them all…